Choose the longer route. Climb higher mountains. This smooth-riding endurance road bike is purpose-built to help you tackle long-distance road rides on all types of roads.
Highlights
Handcrafted with Advanced-grade composite material, the Defy Advanced is engineered with tube shapes that are optimized to absorb road shocks and vibrations. Even with its smooth ride quality, it still delivers a lightweight, stiff and lively feel when you're climbing, accelerating and cornering. It's made with a specific carbon layup to give it an efficient, high-performance ride quality that helps you push new limits of endurance. The D-Fuse seatpost and handlebar system also help reduce road vibrations, adding to its smooth, compliant feel on the road. A tubeless Giant WheelSystem and tires boost speed and efficiency with a reduced risk of flats. And for added control, it features integrated disc brakes with flat-mount disc brake tabs and 12mm thru-axles.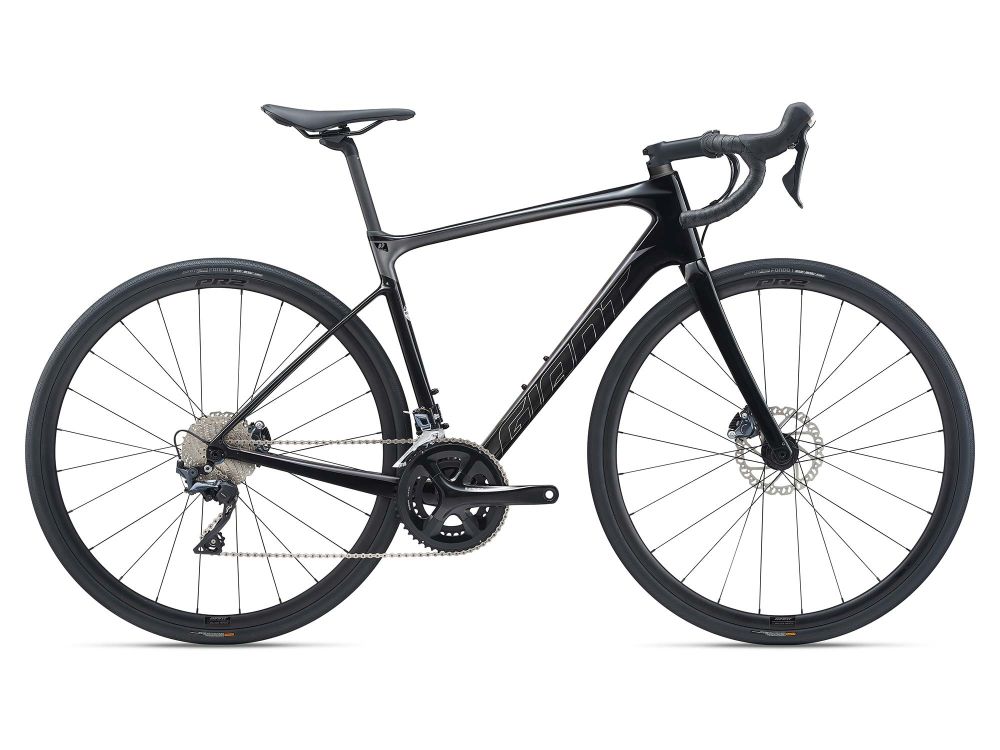 Galerie
Selecting any of the image buttons will open a larger image gallery with image descriptions
Technologien

Advanced Composite Technologie
Giant's Hochleistungs-Carbonfaser wird verwendet, um dieses spezielle Carbon-Rahmenmaterial zu fertigen, das im eigenen Werk gewebt und verarbeitet wird und ein hervorragendes Steifheit-Gewichtsverhältnis aufweist. Das vordere Rahmendreieck wird als einziges Stück geformt. Bei der modifizierten Monocoque-Konstruktion entfällt die äußere geflochtene Verbundlage. So wird das Gewicht reduziert, ohne die Fahrqualität, Stabilität oder Steifigkeit zu beeinträchtigen.

Compact Road Design
Das Compact Road Design wurde in den 1990er Jahren von Giant mit dem professionellen Team ONCE eingeführt und revolutionierte das Aussehen von High-Performance-Rennrädern für immer. Ein nach unten abfallendes Oberrohr erzeugt kleinere Front- und Heckdreiecke für ein leichteres, steiferes Bike. Es erleichtert Fahrern aller Größen die perfekte Passform.

D-Fuse Technologie
Die firmeneigene D-förmige Sattelstütze dämpft Vibrationen und sorgt so für ein geschmeidiges und komfortables Fahrgefühl.

Internal Seatpost Clamp
Ein leichter, komplett interner Verschlussmechanismus für die Sattelstütze liefert eine zuverlässige Klemmkraft bei sauberer Performance und Ästhetik.

OverDrive
Der Original-Oversized-Gabelschaft von Giant. Für Lenkpräzision gebaut, liefern die extragroßen Steuersatzlager (1 1/4" unten, 1 1/8" oben für die Straße, 1 1/2" unten und 1 1/8" oben für Mountain) und der konische Gabelschaft optimale Steifigkeit im Vorderbau.

Tubeless System
Weniger Platten. Bessere Traktion. Geringerer Rollwiderstand. Giant's Tubeless System vereinfacht und verbessert die Ausfahrt.